Here's an overview of the Portland, Oregon residential real estate market as of the end of January, 2023.  Please keep in mind that Real Estate is Local.  These numbers reflect the activity in the Portland Metro Area.  If you'd like more specific information about your property or a specific neighborhood, Let's Talk.  Please reach out to me at 503-720-9393 or JonCohen@Windermere.com.
Inventory:  The Sellers' market continues as the inventory of homes sits at 2.7 months at the end of January and exceeding 2-months of supply for the 5th month in a row.  For comparison, a balanced market is 4-6 months of inventory.  Last year at this time, inventory was 0.8 months.  Going back to January, 2020, pre-pandemic, inventory was 2.2 months, another sign we are moving back toward a more normal market.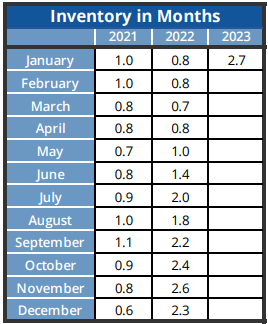 Average and Median Home Price:  While demand remains high, the supply of homes still is not sufficient to satisfy all buyers.  We saw a decrease in the average price of homes in the entire metro area from $586,000 to $532,900 – a 9.2% drop from this time last year.  However, the median price of metro area homes is now $489,500, down from $512,000 at this time last year decrease of 4.4%.  This may be an indication that more lower-priced homes came on the market toward the end of 2022 as investors no longer wanted to be landlords, or simply wanted to cash out of their properties while prices were still high.

Days on Market:  Although demand for homes remains high, higher mortgage interest rates and a more typical slowdown toward the end of 2022 have pushed the average number of days homes are on the active market to 65 days, up from 38 days in January 2022.  Comparatively, the average days on market in January 2020 (pre-pandemic) was 74 days.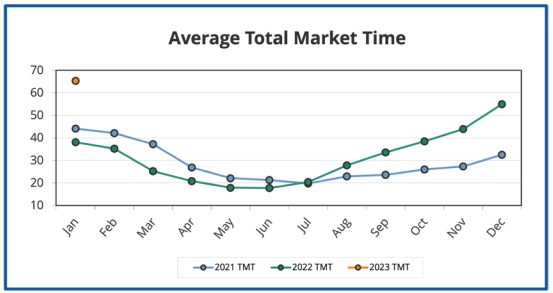 (Data and graphs provided by RMLS)